Fred here… I love reading XKCD… it could be my IT background, or maybe it's my love of stick-figure drawings — who knows? Bottom line: I love XKCD. When a beautiful bride visited our Gainesville bakery to order this XKCD groom's cake for her wedding, the smile on my face was bigger than the bride's.
For those who may not be familiar, XKCD is a web-comic by Randall Munroe. His comics have a technical/scientific/physics angle to them, but they always center around life and love. Sure, there's some in-jokes that only people with PhD's may understand, but mostly the comics simply make you smile.
For this groom's cake, our bride chose webcomic #55, aka "My normal approach is useless here:"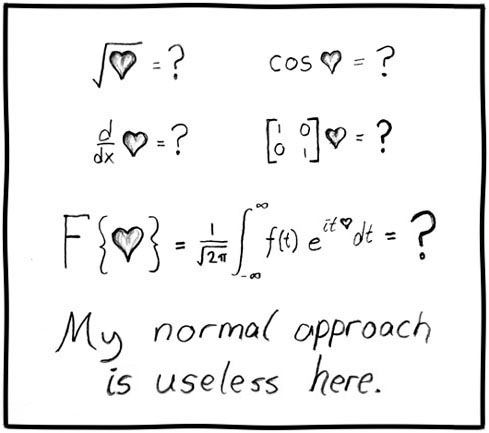 (you can click the image to see the comic)
The concept? Simple. A "squared" cake with a piped reproduction of the cartoon. You can have your XKCD and eat it too. =)
I say "squared" as Yeni wanted to reproduce the hand drawn feel for the cartoon. The borders for the cake needed to be more "XKCD"-like. Speaking of which, here's my beautiful wife piping away:
I could watch her work all day. Of course when she catches me watching her, she usually tells me to get back to work. Ah, the joys of working with your bride… but I digress…
I love the idea of the hearts being pink. Here's another shot, but I angled the camera. Oooooh artsy. =)
And the final cake, in Gainesville's Historic Thomas Center:
Thanks for reading!
Dream Day Cakes® exists to provide the best tasting and best looking cakes money can buy. From our licensed bakery in Gainesville, Florida, we custom create amazing wedding cakes, Groom's cakes, birthday cakes, and more. For more information on how we can help with your next event, please contact us today. Remember, cakes do come true at Dream Day Cakes®.